T-slots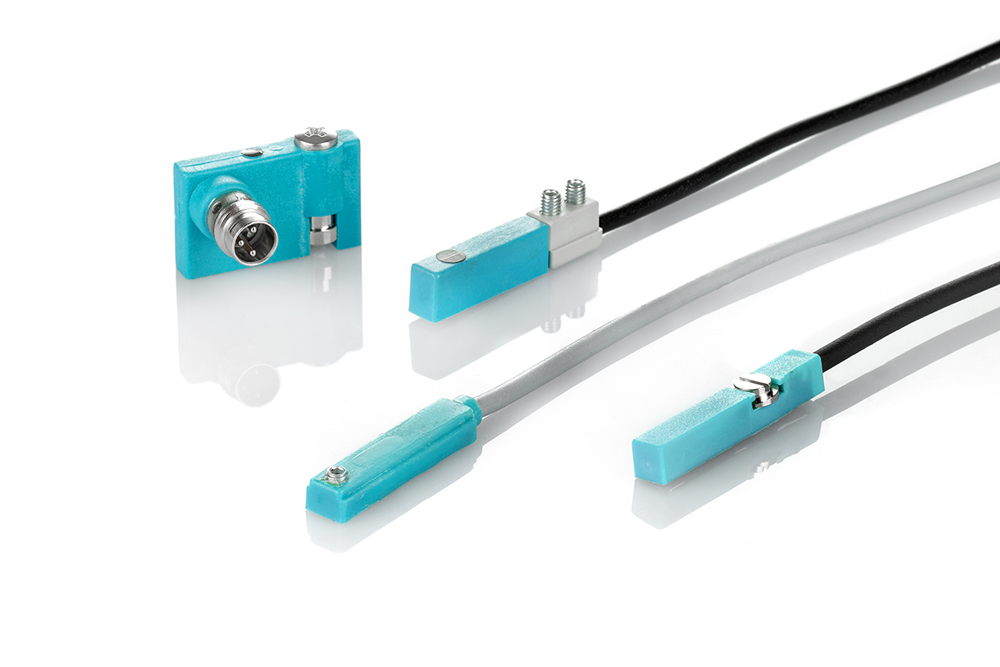 Characteristics

can be inserted from the top or side
2-, and 3-wire reed, PNP-normally open and normally closed contact, reed normally open contact 230 V DC/AC
compact design 26 mm long
cable, cable plugs or M8 plug connection as options
LED switching status display
extensive fixture range

Installation

In T-groove profile cylinders, the sensors are inserted from above/from the side into the groove and fixed.
A comprehensive attachments/accessories range available for fastening to other cylindrical housings.

Advantages

can be inserted from above
can be used with accessories on round, profile and rod cylinders
high repeatability
high operational reliability
length of connecting cable can be freely selected (standard 2.5 m)

Applications

pneumatic cylinders
pneumatic grippers
...
| product group | subgroup | style | series | order no | type | output type | switching distance | connection | Link Datasheet |
| --- | --- | --- | --- | --- | --- | --- | --- | --- | --- |
| cylinder switches | t-slot | inserted from side | AC/DC 2-wire | 72802 | MKF05ZSAK | NO |   | 2,5m cable | |
| cylinder switches | t-slot | inserted from side | AC/DC 2-wire | 72812 | MKF05ZSAS | NO |   | 30cm/M8 | |
| cylinder switches | t-slot | inserted from side | AC/DC 3-wire | 72822 | MKF05ZLAK | NO |   | 2,5m cable | |
| cylinder switches | t-slot | inserted from side | AC/DC 3-wire | 72832 | MKF05ZLAS | NO |   | 30cm/M8 | |
| cylinder switches | t-slot | inserted from side | DC 3-wire | 72842 | MKF05ZBDK | PNP-NO |   | 2,5m cable | |
| cylinder switches | t-slot | inserted from side | DC 3-wire | 72852 | MKF05ZBDS | PNP-NO |   | 30cm/M8 | |
| cylinder switches | t-slot | inserted from top | AC/DC 2-wire | 75250 | MKF10ZSAK | NO |   | 2,5m cable | |
| cylinder switches | t-slot | inserted from top | AC/DC 2-wire | 75315 | MKF10ZSAS | NO |   | 30cm/M8 | |
| cylinder switches | t-slot | inserted from top | AC/DC 3-wire | 75363 | MKF10ZLAK | NO |   | 2,5m cable | |
| cylinder switches | t-slot | inserted from top | AC/DC 3-wire | 75369 | MKF10ZLAS | NO |   | 30cm/M8 | |
| cylinder switches | t-slot | inserted from top | DC 3-wire | 75371 | MKF10ZBDK | PNP-NO |   | 2,5m cable | |
| cylinder switches | t-slot | inserted from top | DC 3-wire | 75376 | MKF10ZBDS | PNP-NO |   | 30cm/M8 | |
| cylinder switches | t-slot | inserted from top | AC/DC 2-wire | 75398 | MKF10ZSAS* | NO |   | 30cm/M8knurled | |
| cylinder switches | t-slot | inserted from top | AC/DC 3-wire | 75419 | MKF10ZLAS* | NO |   | 30cm/M8knurled | |
| cylinder switches | t-slot | inserted from top | DC 3-wire | 75462 | MKF10ZBDS | PNP-NO |   | 30cm/M8knurled | |
| cylinder switches | t-slot | inserted from side | AC/DC 2-wire | 75683 | MKF05ZSAK | NO 230V |   | 2,5m cable | |
| cylinder switches | t-slot | inserted from side | DC 3-wire | 75715 | MKF05ZADK | PNP-NC |   | 2,5m cable | |
| cylinder switches | t-slot | inserted from side | DC 3-wire | 75716 | MKF05ZADS | PNP-NC |   | 30cm/M8 | |
| cylinder switches | t-slot | inserted from top | AC/DC 2-wire | 75717 | MKF16ZSAK | NO |   | 2,5m cable | |
| cylinder switches | t-slot | inserted from top | AC/DC 3-wire | 75718 | MKF16ZLAK | NO |   | 2,5m cable | |
| cylinder switches | t-slot | inserted from top | DC 3-wire | 75719 | MKF16ZBDK | PNP-NO |   | 2,5m cable | |
| cylinder switches | t-slot | inserted from top | AC/DC 2-wire | 75720 | MKF16ZSAS | NO |   | plug M8 | |
| cylinder switches | t-slot | inserted from top | AC/DC 3-wire | 75721 | MKF16ZLAS | NO |   | plug M8 | |
| cylinder switches | t-slot | inserted from top | DC 3-wire | 75722 | MKF16ZBDS | PNP-NO |   | plug M8 | |
| cylinder switches | t-slot | inserted from top | AC/DC 2-wire | 75723 | MKF07ZSAK | NO |   | 2,5m cable | |
| cylinder switches | t-slot | inserted from top | AC/DC 3-wire | 75724 | MKF07ZLAK | NO |   | 2,5m cable | |
| cylinder switches | t-slot | inserted from top | DC 3-wire | 75725 | MKF07ZBDK | PNP-NO |   | 2,5m cable | |
| cylinder switches | t-slot | inserted from top | AC/DC 2-wire | 75726 | MKF07ZSAS | NO |   | 30cm/M8 | |
| cylinder switches | t-slot | inserted from top | AC/DC 3-wire | 75727 | MKF07ZLAS | NO |   | 30cm/M8 | |
| cylinder switches | t-slot | inserted from top | DC 3-wire | 75728 | MKF07ZBDS | PNP-NO |   | 30cm/M8 | |