Rectangular
Unsere Baureihen MKF24Axxx MKF25Axxx und MKF35Axxx werden im Aufzug- und Steuerungsbau überwiegend mit Rasterkontakt (bistabiler Kontakt) eingesetzt. Durch die integrierten Abschirmungen kann die Baureihe MKF24Axxx ohne Abstand nebeneinander montiert werden. Optionale Konsolen ermöglichen steckerfertige Komplettsysteme bis zu 10 Geräte. Mögliche Schaltspannungen bis max. 230 V AC/DC garantieren vielfältigste Applikationen.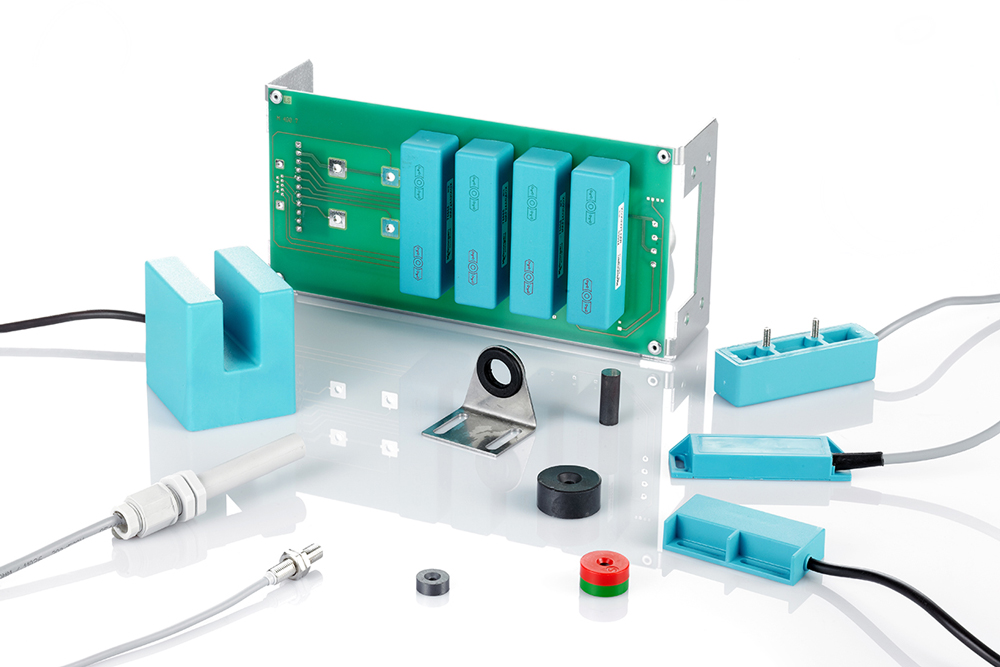 Characteristics

rectangular designs in various sizes
bistable, change-over , normally open or normally closed contact
(Flat-) plug, cable or screw contact
double-sided shielding (Series MKF24A ...)
LED switching status display on the north and/or south pole (Series MKF24A ...)
consoles with 2-10 sensors, fully wired

Installation

maximum sensing range of the sensor when mounted on non-ferrous metal, plastic, wood, etc.
keep a sufficient distance between the individual devices in parallel installation to prevent strong solenoid switches from switching the sensor mounted next to them (except Series MKF24)
series MKF24 can be mounted in parallel without a gap in between.

Advantages

gapless parallel mounting possible (Series MKF24A)
sensing distance up to 60 mm (depending on the magnet)
high switching capacity
length of connecting cable can be freely selected (standard 1 m)

Applications

lifts and escalators
warehouse and conveyor technology
plant construction and mechanical engineering
...
| product group | subgroup | style | series | order no | type | output type | switching distance | connection | Link Datasheet |
| --- | --- | --- | --- | --- | --- | --- | --- | --- | --- |
| reedswitches | rectangular | cuboid | 27,8x16x10,3mm AC/DC 2-wire | 70612 | MKD16OSAK | NO |   | 1m cable | |
| reedswitches | rectangular | cuboid | 27,8x16x10,3mm AC/DC 3-wire | 70624 | MKD16OUAK | change over |   | 1m cable | |
| reedswitches | rectangular | cuboid | 27,8x16x10,3mm AC/DC 2-wire | 70642 | MKD16OSAS | NO |   | plug M8 | |
| reedswitches | rectangular | cuboid | 27,8x16x10,3mm AC/DC 3-wire | 70654 | MKD16OUAS | change over |   | plug M8 | |
| reedswitches | rectangular | cuboid | 80x30x20mm AC/DC 2-wire | 70712 | MKF30OSAK | NO |   | 1m cable | |
| reedswitches | rectangular | cuboid | 80x30x20mm AC/DC 3-wire | 70724 | MKF30OUAK | change over |   | 1m cable | |
| reedswitches | rectangular | cuboid | 80x30x20mm AC/DC 2-wire | 70731 | MKF30OOAK | NC |   | 1m cable | |
| reedswitches | rectangular | cuboid | 80x20x10mm AC/DC 2-wire | 70812 | MAF10OSAK | NO |   | 1m cable | |
| reedswitches | rectangular | cuboid | 80x20x10mm AC/DC 3-wire | 70824 | MAF10OUAK | change over |   | 1m cable | |
| reedswitches | rectangular | cuboid | 80x20x10mm AC/DC 2-wire | 70831 | MAF10OOAK | NC |   | 1m cable | |
| reedswitches | rectangular | cuboid | 80x20x10mm AC/DC 3-wire | 70843 | MAF10ORAK | bistable |   | 1m cable | |
| reedswitches | rectangular | cuboid | 50x20x10mm AC/DC 2-wire | 70852 | MAF10MSAK | NO |   | 1m cable | |
| reedswitches | rectangular | cuboid | 50x20x10mm AC/DC 3-wire | 70864 | MAF10MUAK | change over |   | 1m cable | |
| reedswitches | rectangular | cuboid | 30x19x15mm AC/DC 2-wire | 70892 | MKF15OSAK | NO |   | 1m cable | |
| reedswitches | rectangular | cuboid | 30x19x15mm AC/DC 3-wire | 70904 | MKF15OUAK | change over |   | 1m cable | |
| reedswitches | rectangular | cuboid | 100x60x30mm AC/DC 2-wire | 71042 | MGF30OSAA | NO |   | wiring space | |
| reedswitches | rectangular | cuboid | 100x60x30mm AC/DC 3-wire | 71054 | MGF30OUAA | change over |   | wiring space | |
| reedswitches | rectangular | cuboid | 100x60x30mm AC/DC 2-wire | 71061 | MGF30OOAA | NC |   | wiring space | |
| reedswitches | rectangular | cuboid | 100x60x30mm AC/DC 2-wire | 71073 | MGF30ORAA | bistable |   | wiring space | |
| reedswitches | rectangular | cuboid | 104x52x45mm AC/DC 2-wire | 71082 | MGF40OSAA | NO |   | wiring space | |
| reedswitches | rectangular | cuboid | 104x52x45mm AC/DC 3-wire | 71094 | MGF40OUAA | change over |   | wiring space | |
| reedswitches | rectangular | cuboid | 104x52x45mm AC/DC 2-wire | 71101 | MGF40OOAA | NC |   | wiring space | |
| reedswitches | rectangular | cuboid | 104x52x45mm AC/DC 2-wire | 71113 | MGF40ORAA | bistable |   | wiring space | |
| reedswitches | rectangular | cuboid | 32x8x7mm AC/DC 2-wire | 71122 | MKF08OSAK | NO |   | 1m cable | |
| reedswitches | rectangular | cuboid | 88x25x13,5mm AC/DC 2-wire | 71672 | MKF25ASAK | NO |   | 1m cable | |
| reedswitches | rectangular | cuboid | 88x25x13,5mm AC/DC 3-wire | 71684 | MKF25AUAK | change over |   | 1m cable | |
| reedswitches | rectangular | cuboid | 88x25x13,5mm AC/DC 3-wire | 71691 | MKF25AOAK | NC |   | 1m cable | |
| reedswitches | rectangular | cuboid | 88x25x13,5mm AC/DC 2-wire | 71713 | MKF25ARAK | bistable |   | 1m cable | |
| reedswitches | rectangular | cuboid | 88x25x13,5mm AC/DC 3-wire | 71727 | MKF25AWAK | changer |   | 1m cable | |
| reedswitches | rectangular | cuboid | 56x12x9,5mm AC/DC 2-wire | 71812 | MMF12ASAK | NO |   | 1m cable | |
| reedswitches | rectangular | cuboid | 56x12x9,5mm AC/DC 3-wire | 71824 | MMF12AUAK | change over |   | 1m cable | |
| reedswitches | rectangular | cuboid | 68x15x15mm AC/DC 2-wire | 71852 | MKF15ASAK | NO |   | 1m cable | |
| reedswitches | rectangular | cuboid | 68x15x15mm AC/DC 3-wire | 71864 | MKF15AUAK | change over |   | 1m cable | |
| reedswitches | rectangular | cuboid | 68x15x15mm AC/DC 4-wire | 71872 | MKF15ZSAK | NO |   | 1m cable | |
| reedswitches | rectangular | cuboid | 45x12x9mm AC/DC 2-wire | 71902 | MKF09ASAK | NO |   | 1m cable | |
| reedswitches | rectangular | cuboid | 45x12x9mm AC/DC 4-wire | 71912 | MKF09ZSAK | NO |   | 1m cable | |
| reedswitches | rectangular | cuboid | 16x12x6,3mm AC/DC 2-wire | 72312 | MKZ10OBDK | P-NO |   | 1m cable | |
| reedswitches | rectangular | cuboid | 68x35x15mm AC/DC 2-wire | 75141 | MKF35ARAK | bistable |   | 1m cable | |
| reedswitches | rectangular | cuboid | 68x35x15mm AC/DC 2-wire | 75448 | MKF35ASAK | NO |   | 1m cable | |
| reedswitches | rectangular | cuboid | 35x20x10mm AC/DC 2-wire | 75684 | MAF20OSAK | NO |   | 1m cable | |
| reedswitches | rectangular | cuboid | 35x20x10mm AC/DC 3-wire | 75685 | MAF20OUAK | change over |   | 1m cable | |