reed sensors without magnets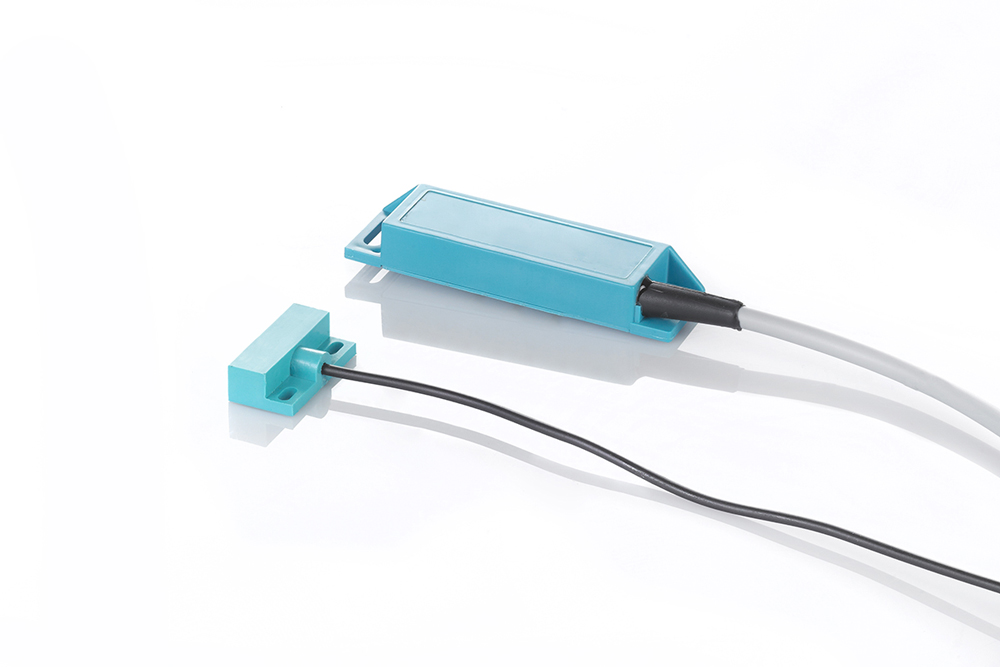 Characteristics

responds to all ferromagnetic materials (no magnet required)
robust plastic housing
normally open contact
switch area can be ordered on the front or top
high switching capacity
cable connection

Installation

the sensing distance is about 3 mm when actuating with S235JR / St37.
install switched so that the actuating surface moving towards the sensor (e.g. door, bolts, ...) approaches to this distance.
easy adjustment through slotted holes in the housing.

Advantages

no switching magnet necessary
all magnetically conductive materials suitable for actuation
high switching capacity
customised versions according to your specifications available

Applications

door and window monitoring
closing control in locks
position detection
...
| product group | subgroup | style | series | order no | type | output type | switching distance | connection | Link Datasheet |
| --- | --- | --- | --- | --- | --- | --- | --- | --- | --- |
| reedswitches | reedswitch without magnet | cuboid | 40x12x20mm AC/DC 3-wire | 75415 | MKF12OUAKX | change over |   | 1m cable | |
| reedswitches | reedswitch without magnet | cuboid | 34,5x17,2x10mm AC/DC 2-wire | 75711 | MKF35OSAK | NO |   | 1m cable | |
| reedswitches | reedswitch without magnet | cuboid | 34,5x17,2x10mm AC/DC 2-wire | 75712 | MKF35OSAK | NO |   | 1m cable | |
| reedswitches | reedswitch without magnet | cuboid | 88x13x25mm AC/DC 2-wire | 75713 | MKF25ASAK | NO |   | 1m cable | |
| reedswitches | reedswitch without magnet | cuboid | 88x13x25mm AC/DC 2-wire | 75714 | MKF25ASAK | NO |   | 1m cable | |
| reedswitches | reedswitch without magnet | cuboid | 40x12x20mm AC/DC 2-wire | 75908 | MKF12OSAKX | NO |   | 1m cable | |